WASTED PERSONAL USE Regular
WASTED familia consiste en 2 fuentes
-->
Etiquetas
Nota del autor
WASTED, the edgy and grungy font designed by Billy Argel, is perfect for projects that require a bold statement. Its eroded style gives it a unique and distressed look, adding character to any design. The extra-bold weight of the font demands attention and its semi-expanded width makes it suitable for large headlines or titles in posters, flyers, or album covers. Use WASTED to add an urban vibe to your branding materials or to create an alternative feel in your website design. Let your creativity run wild with this versatile display font.
This font is partial and free for personal use only.
Three layered fonts.
For further information, contact us. >
https://billyargel.com/contact-us/
Commercial licenses and complete versions available at >>
https://billyargel.com/product/wasted/
visit
http://www.billyargel.com
https://www.instagram.com/billyargelfonts/
http://www.facebook.com/billyargelfonts
Mapa de caracteres
Por favor, usa el menú desplegable para ver los diferentes mapas de caracteres que contiene esta fuente.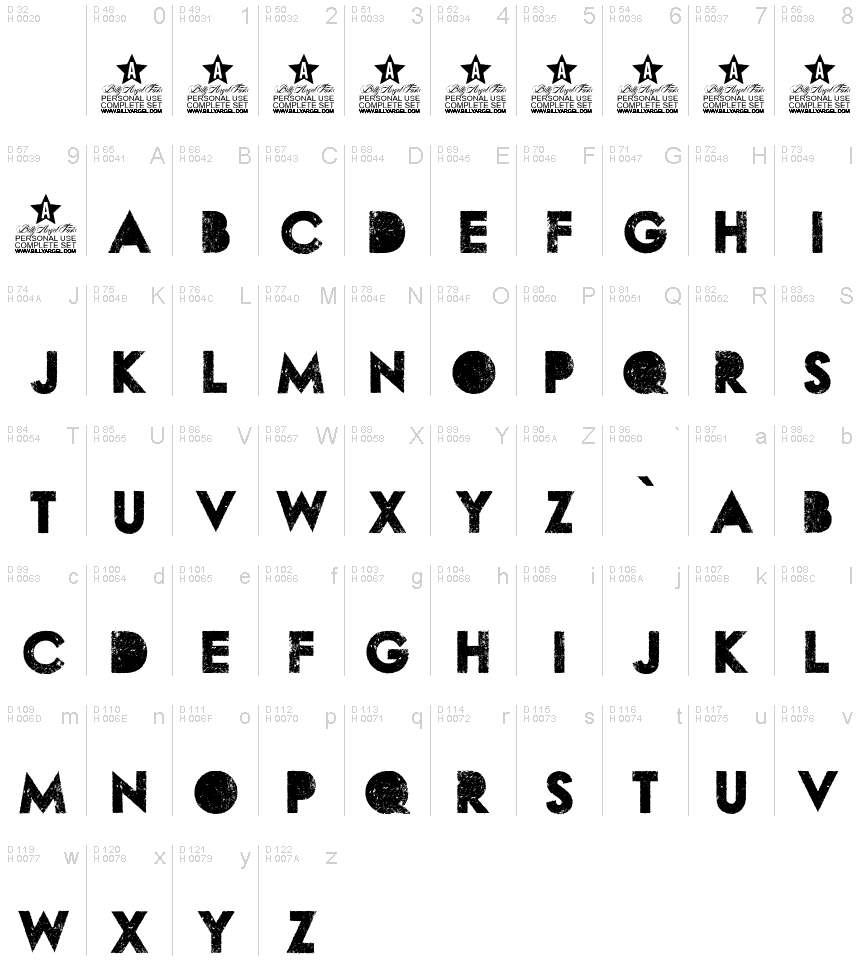 Información básica de fuentes
Aviso de derechos de autor
Copyright (c) 2021 by Billy Argel. All rights reserved.
Identificación de subfamilia única
BillyArgel: WASTED PERSONAL USE Regular: 2021
Nombre completo de fuente
WASTED PERSONAL USE Regular
Versión de la tabla de nombres
Nombre de fuente PostScript
WASTEDPERSONALUSE-Regular
WASTED PERSONAL USE Regular is a trademark of Billy Argel.
PERSONAL USE ONLY! Commercial licenses and complete set available @ https://billyargel.com/ More infos contact @ https://billyargel.com/contact-us/ https://billyargel.com/
Información completa de la fuente
Información completa de la fuente
PlataformaCodificación
Unicode
Unicode 2.0 y la semántica en adelante, unicode BMP sólo
Microsoft
Sólo unicode BMP
Detalles de fuente
Derechos de incrustación
Incrustación restringida (¡no permitido!)
Clase de familia
Sin clasificación
Dirección
Sólo glifos muy de izquierda a derecha + contiene los neutrales
Naturaleza del patrón
Ordinario
El paquete completo contiene 2 los pesos de fuentes enlistados abajo:
WASTED PERSONAL USE.ttf
WASTED.TTF