Josefa Rounded Reduced Bold
Josefa Rounded familia consiste en 14 fuentes
JosefaRoundedReduced-Bold.ttf
-->
Etiquetas
Nota del autor
Josefa Rounded Reduced Bold font is a sans serif font without rough edges designed by Ingo Zimmermann of ingoFonts.

Josefa Rounded is a beautiful text typeface. Its unostentatious forms and balanced narrow proportions along with the softened round edges make it to appear gentle and pleasing even in longer texts.

Modern, very legible

Narrow proportions

High x-height

Distinctive forms

Determining for the personality of Josefa Rounded are also particular idiosyncratic letters. For instance B P and R is designed openly; the bars of E and F equal each other; lower case c and e are distinctly withdrawn in their lower zone; y is symmetrical.
Short ascenders generate compact word images. Cap height is shorter than the ascenders, so capitals are only little higher than x-height.

Josefa Rounded is provided in 7 weights including the corresponding italics.

Tabular figures and proportional figures are available through the appropriate OpenType function as well as ligatures and discretional ligatures.

2 versions of Josefa Rounded are available:
Josefa Rounded Standard supports all Western and Northern European languages (Unicode Latin 1)
Josefa Rounded Pro furthermore supports Middle and Eastern European languages, Turkish, Greek and Cyrillic (Latin Extended A, ISO 8859-1, Cyrillic & Cyrillic Supplement)

The font downloadable here is a reduced version (without punctuation, ligatures, numbers etc.). A commercial version of this font (with all features) is available at www.ingofonts.com.
Mapa de caracteres
Por favor, usa el menú desplegable para ver los diferentes mapas de caracteres que contiene esta fuente.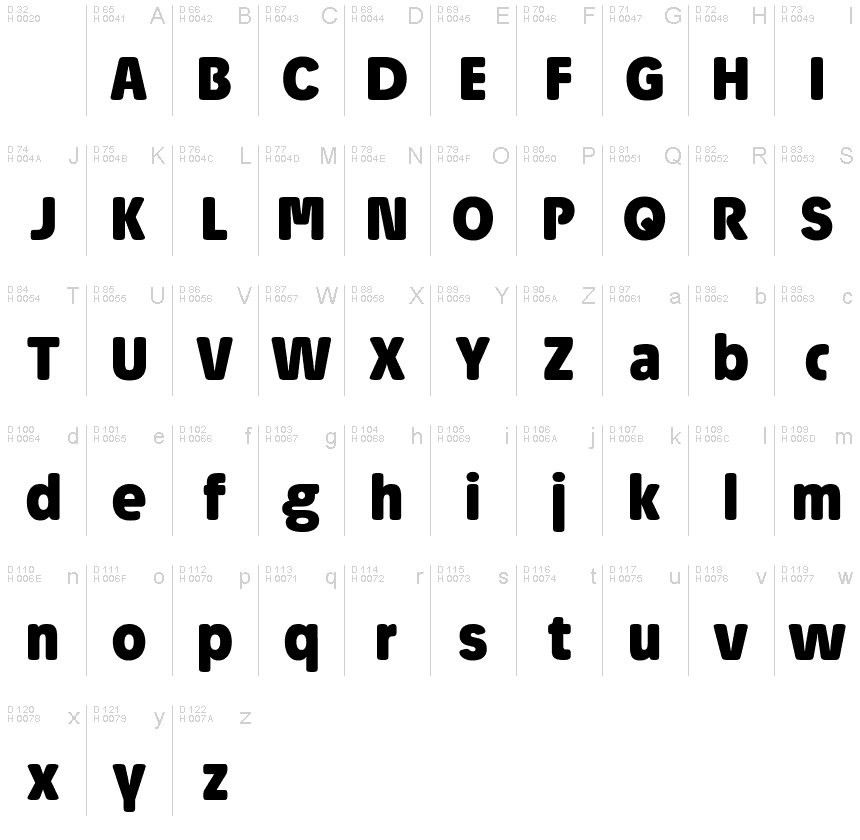 Información básica de fuentes
Aviso de derechos de autor
Copyright (c) 2017 by Ingo Zimmermann, Augsburg. Alle Rechte vorbehalten.
Identificación de subfamilia única
IngoZimmermann,Augsburg: Josefa Rounded Reduced Bold: 2017
Nombre completo de fuente
Josefa Rounded Reduced Bold
Versión de la tabla de nombres
Nombre de fuente PostScript
JosefaRoundedReduced-Bold
Josefa Rounded Reduced Bold ist eine Marke von Ingo Zimmermann, Augsburg.
Copyright (c) 2017 by Ingo Zimmermann, Augsburg. All rights reserved.
Información completa de la fuente
Información completa de la fuente
PlataformaCodificación
Unicode
Unicode 2.0 y la semántica en adelante, unicode BMP sólo
Microsoft
Sólo unicode BMP
Detalles de fuente
Derechos de incrustación
Incrustación para la instalación permanente
Clase de familia
Sin serifas
Dirección
Sólo glifos muy de izquierda a derecha + contiene los neutrales
Naturaleza del patrón
Ordinario
El paquete completo contiene 14 los pesos de fuentes enlistados abajo:
JosefaRoundedReduced-Bold.ttf
JosefaRoundedReduced-Light.ttf
JosefaRoundedReduced-Medium.ttf
JosefaRoundedReduced-BookItalic.ttf
JosefaRoundedReduced-Thin.ttf
JosefaRoundedReduced-Black.ttf
JosefaRoundedReduced-BlackItalic.ttf
JosefaRoundedReduced-Book.ttf
JosefaRoundedReduced-LightItalic.ttf
JosefaRoundedReduced-ExtraLightItalic.ttf
JosefaRoundedReduced-BoldItalic.ttf
JosefaRoundedReduced-ExtraLight.ttf
JosefaRoundedReduced-ThinItalic.ttf
JosefaRoundedReduced-MediumItalic.ttf