BlueHighway-Bold
Blue Highway familia consiste en 10 fuentes
Acentos (parcial)
Acentos (completo)
Euro
blue highway bd.ttf
Etiquetas
Nota del autor
In 1996, I created Blue Highway, a font based Canada/U.S. highway sign lettering. The original version was kind of a mess and subsequent versions werent much better. In 2004 I discontinued Blue Highway & replaced it with Expressway. But some people still prefer Blue Highway, despite the technical problems. Recently, I rebuilt Blue Highway and retained the clunkiness, goofy charm & cost of the original (free). Blue Highway 5.0 comes with an updated license agreement which allows all kinds of fun stuff like web embedding, format conversion, modification & embedding in apps. The Blue Highway family includes Regular, Bold, Condensed D & Linocut styles and is available in OpenType & TrueType format.
These fonts include a license that allows free commercial use: sometimes referred to as a desktop license. This allows you to install the fonts on a computer and use them to create posters, web graphics, game graphics, t-shirts, videos, signs, logos and more. Read the license agreement for details.
If you'd like to embed these fonts in an app, ebook, on the web or anything that's not covered by the desktop license agreement, visit the link below. You'll find distributors who offer different types of licenses or you can contact me for help.
http://typodermicfonts.com/blue-highway-5-0/
Mapa de caracteres
Por favor, usa el menú desplegable para ver los diferentes mapas de caracteres que contiene esta fuente.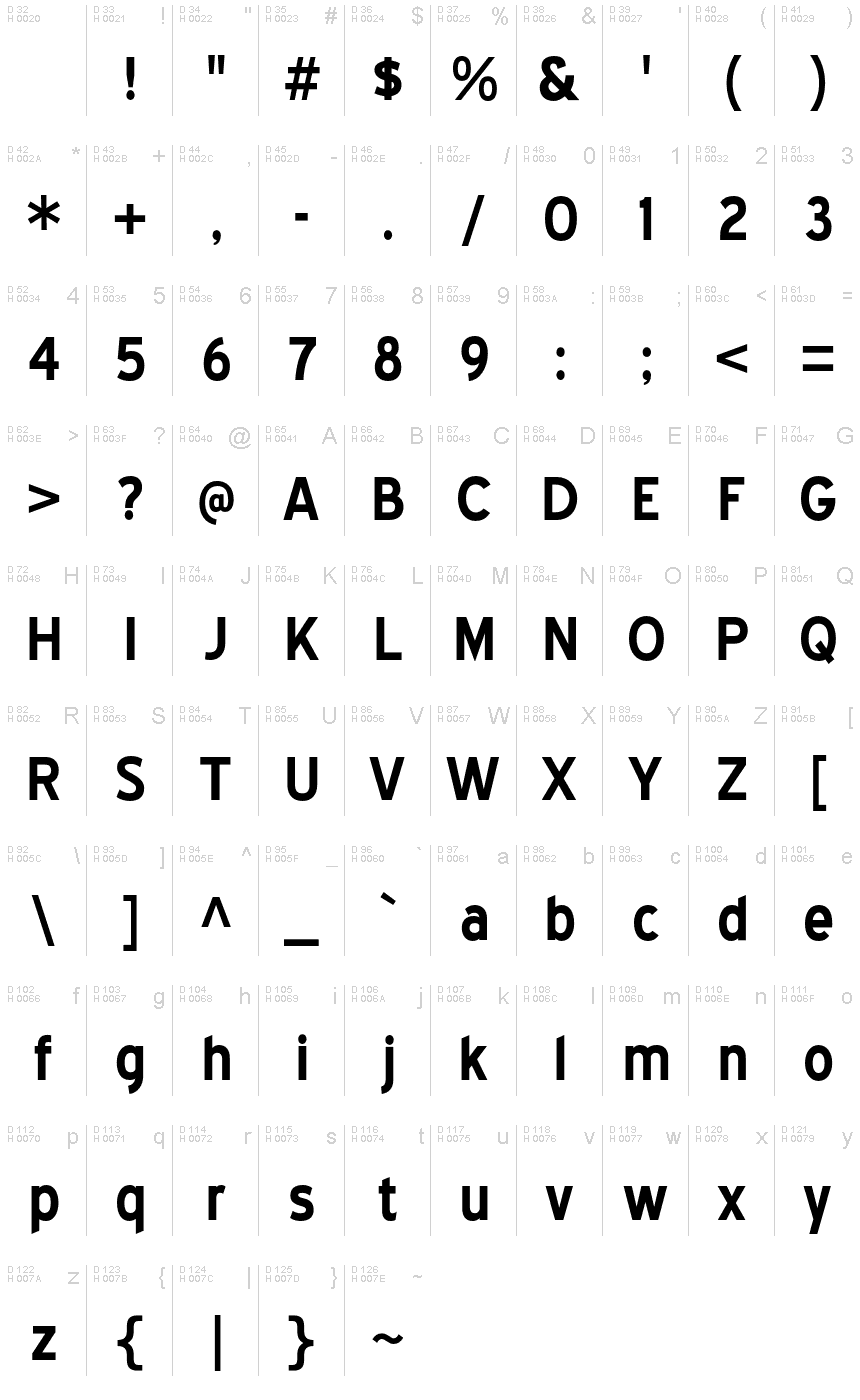 Información básica de fuentes
Aviso de derechos de autor
(c) 1996-2012 Typodermic Fonts Inc. See attached license agreement. If agreement is missing visit typodermicfonts.com for more info.
Identificación de subfamilia única
5.001;TYPO;BlueHighway-Bold
Nombre completo de fuente
Versión de la tabla de nombres
Nombre de fuente PostScript
Blue Highway is a trademark of Typodermic Fonts Inc.
http://typodermicfonts.com/pages/license
Información completa de la fuente
Información completa de la fuente
PlataformaCodificación
Microsoft
Sólo unicode BMP
Unicode
Unicode 2.0 y la semántica en adelante, unicode BMP sólo
Detalles de fuente
Derechos de incrustación
Incrustación para previsualización e impresión permitida
Clase de familia
Sin serifas
Dirección
Sólo glifos muy de izquierda a derecha + contiene los neutrales
Naturaleza del patrón
En negrita
El paquete completo contiene 10 los pesos de fuentes enlistados abajo:
blue highway bd.ttf
bluebold.ttf
bluehigh.ttf
bluecond.ttf
bluehigb.ttf
bluehigc.ttf
Blue-Highway-Linocut.ttf
Blue-Highway-D-Type.ttf
blue highway rg.ttf
BlueHighwayPixie.ttf